The continuous evolution of the metaverse is closely related to the developments of Web 3.0 and the consolidation of blockchain technology. These technological tools allow the construction of the metaverse.
Our development team of blockchain and Web 3.0 experts have extensive technical skills and the experience needed to deliver your blockchain project to success.
Our metaverse integration services allow us to optimize and develop your project, no matter what stage of development it is in. Whether it is the need to transcend conventional digital spaces or that the development has yet to grow solid foundations.
Our service includes the complete development of your project, from conceptual management to programming, and from the acquisition of frames to the adoption of sophisticated digital marketing strategies.
Our front-end and back-end designers are trained to transform your metaverse into an innovative experience.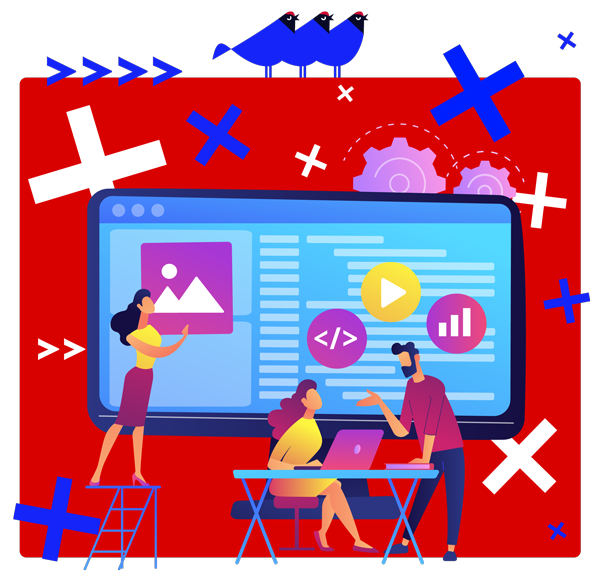 We are experts in the construction of immersive 3D spaces. Our 3D design team works closely with our developers to implement innovative experiences across the variety of platforms the metaverse has to offer.
We satisfy every type of need. We develop games, marketplaces, social platforms, virtual events, avatars and much more. We are the team you need to create experiences in this unprecedented new 3D 'world'.
Metaverse Apps Development
We create applications based on blockchain technology and artificial intelligence tailored to the needs and characteristics of your project. On blockchain technology and artificial intelligence we develop all types of existing applications.
Metaverse Marketplace Development
The marketplaces present in the metaverse are a particularly interesting solution. 
In this new reality, various assets such as NFTs have a wide chance of success, thanks to the presence of millions of potentially interested users.
We are marketplace developers for the metaverse. We have created trading platforms dedicated to all types of digital tokens.
Our team of developers creates tiered test environments for the metaverse platforms we develop. From AI integrations, to prototypes and visuals.
Own Metaverse Development
We develop and implement integral metaverse projects that meet all development and scalability requirements and standards.