Management of your cryptocurrency networks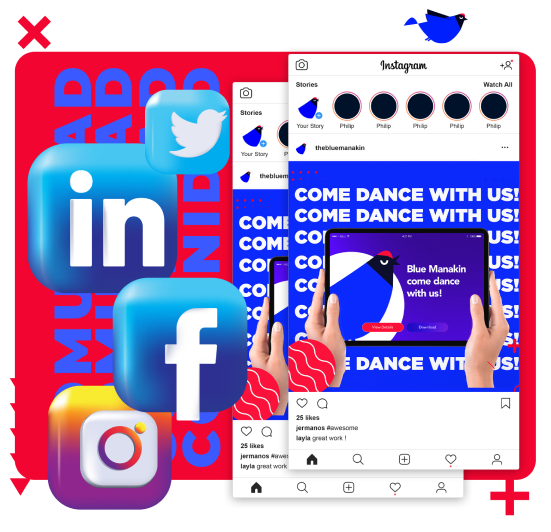 Twitter, Instagram and Linkedin management for cryptocurrencies.
Aunque twitter, linkedin o instagram no gozen de una audiencia especializada en criptomonedas, estas redes son fundamentales para crear comunidades, dar credibilidad y generar confianza a los inversionistas potenciales y el target.
We usually use:
. Twitter para noticias sobre la crypto, para lanzar comunicados, compartir novedades y actualizaciones.
. Instagram para awarness para crear un lenguaje visual, dar a conocernos como una marca o un proyecto fresco, fuerte y moderno.
. Linkedin para inversores y empresas, linkedin es donde compartimos información sobre las personas que rodean el proyecto.
En este servicio definimos una estrategia de redes sociales para criptomonedas customizando cada red con su contenido y su manera de comunicar para llegar al público objetivo.
Utilizamos las redes sociales para generar interacción alrededor de nuestro proyecto de criptomonedas con perfiles y plataformas relevantes. Incentivamos la atención de perfiles y actores relevantes en nuestro proyecto.
Creation and management of a Reddit for a cryptocurrency
Reddit es una plataforma muy importante cuando queremos transmitir mensajes alrededor de una criptomoneda. Reddit cuenta con más de 430 millones de usuarios activos y es una red en la que la mayoría se espera encontrar lo último y lo más novedoso y alternativo de todo internet. Es por esto que reddit es un canal estratégico para una criptomoneda. Es importante entrar en los grupos de inversiones, de cryptos y lanzar mensajes relacionados con nuestra crypto.
Reddit has a series of functionalities that can be used to gain more visibility, although the easiest system is to contact users and channels relevant to our objectives. The main features of Reddit are:
. Karma: El Karma se basa en un sistema de votos positivos y negativos.
. Reddit Oro: Esta es una opción premium que permite desactivar los anuncios, crear avatares personalizados y participar en «subreddits» para usuarios premium.
. Pregúntame cualquier cosa: El «Ask Me Anything» (AMA) trata de responder a cualquier pregunta sobre cualquier tema.
Content generation on Medium
Medium es una plataforma que permite subir contenido de manera gratuita y, a diferencia de otras redes sociales, este tipo de contenido puede ser explicado con mayor nivel técnico y se puede profundizar sobre un tema debido a que el público que la utiliza está acostumbrado a investigar e informarse a un nivel de detalle mucho más profundo.
Talking about a project in blockchain or a cryptocurrency in medium is very useful especially because of the positioning that it gives us, both at the SEO level as well as consolidating our awareness and seriousness of the project.
La plataforma es un medio para posicionar el proyecto, es decir, si la información se encuentra en Medium es confiable y puede ser utilizada como fuente informativa.