¿Qué es el sistema P2P?
Una red peer to peer es una manera distinta de hacer una red de conexiones debido a que no se utiliza una estación de servidores, sino que cada ordenador del "servidor" son las personas que aportan a este sistema.
Una red peer-to-peer, red de pares, red entre iguales o red entre pares (P2P, por sus siglas en inglés) es una red de ordenadores en la que todos o algunos aspectos funcionan sin clientes ni servidores fijos, sino una serie de nodos que se comportan como iguales entre sí.
Es más, actúan simultáneamente como clientes y servidores respecto a los demás nodos de la red. Las redes P2P permiten el intercambio directo de información, en cualquier formato, entre los ordenadores interconectados.
El usuario para poder participar dentro de esta red de peer to peer lo que tiene que hacer es que a través de un software en su ordenador lo conecte a esta red y le da la posibilidad de participar como cliente o como servidor, es un modelo descentralizado porque como ya se mencionó no existe un servidor central.
Muchas aplicaciones como Spotify o Napster iniciaron de esta manera como una red peer to peer, pero debido a que ofrecer servicios de música o películas a través de servidores descentralizados es catalogado como piratería, se cambió el modelo.
También fue debido al crecimiento de Spotify que se dieron a la tarea de crear un servidor central y de esta manera ofrecer el servicio.
Una de las ventajas que ofrece este sistema es que cada usuario puede administrar su propio equipo, sin necesidad de tener conocimientos técnicos, pues todo depende únicamente del software y de la cantidad de usuarios que lo estén utilizando para que tenga un mayor alcance.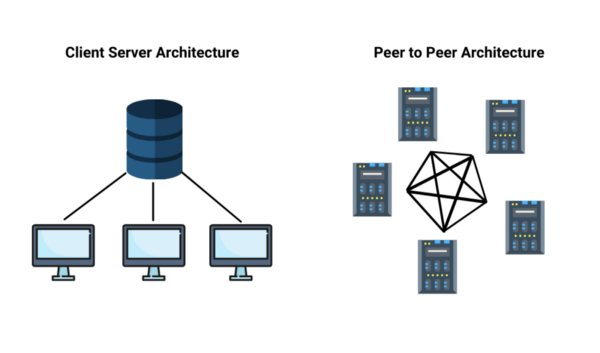 Aunque todo parece ser bueno también tiene algunas desventajas y la principal es que, aunque no hay que tener conocimientos técnicos sobre cómo funciona, hay que tener mucho cuidado debido a que si no tienes un sistema de antivirus en el ordenador puedes introducir el virus a la red peer to peer y que tengan acceso la información de todos los usuarios que están dentro de la red.
Las criptomonedas y la tecnología blockchain utilizan una red P2P por lo que en The Blue Manakin nos importa explicar como funciona este sistema ya que es algo con lo que te vas a topar muchas veces mientras navegues en temas del criptomundo.